Coach Shrinks
Season 3, Episode 7
Air date
January 14, 2003 (Canada)
January 10, 2003 (United States; independently-aired episode)
Written by
Jennifer Pertsch
Directed by
Brian Lee
Episode guide
Previous
Friends and Anemones
Next
Migrate-est Adventure
Coach Shrinks 
(dubbed in Quebec as
Entraîneur Georges
) is the seventh episode of the third season.
George coaches Becky's hockey team, which has yet to win a single game.
This is the only appearance of Lizzy, Helga, and The Storks.
This marks the last appearance of the Fortevoce twins.
The French title of this episode is called, "Coach Georges".
In the first shot of Helga at the goal, she is seen with her glasses on, but in the next shot, her glasses disappear.
On the second day that George teaches The Storks, when the team sprint up the ice with their skates and when Jimmy falls down, Becky's voice, "WHOA" can be heard, even when Becky didn't fall.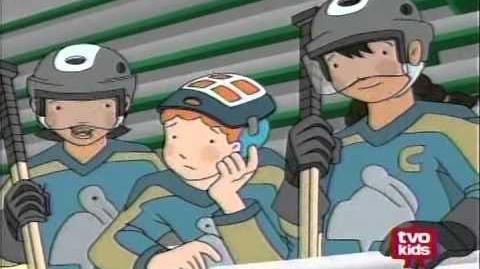 Community content is available under
CC-BY-SA
unless otherwise noted.