From Bad to Worse
Season 1, Episode 6
Air date
October 14, 2000 (Canada)
February 3, 2003 (United States; independently-aired episode)
Written by
Richard Elliott and Simon Racioppa
Directed by
Doug Thoms
Episode guide
Previous
Round Up the Usual Insects
Next
Sunken Treasures
From Bad to Worse (dubbed in Quebec as De pire en pire) is the sixth episode of the first season.
When Aunt Eunice is left to babysit George and Junior, George sets out to prove he can do all the things a ten year old boy can do, but not without various mishaps.
The French title of this episode is called, "Worse and worse".
Two pictures of this episode appear in the online game, "Memory Quest".
When Aunt Eunice accidentally knocks over her model tree, Maurice it lands and breaks next to Junior and Junior doesn't seem to be covered in any of the dirt from it, however George (talking as the narrator) says that Junior got covered in some of the dirt from the model.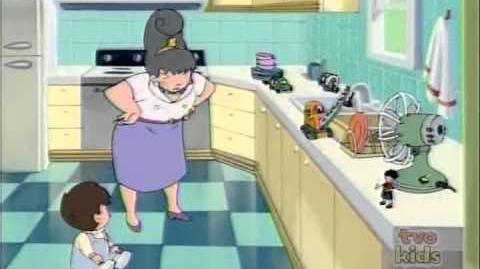 Community content is available under
CC-BY-SA
unless otherwise noted.